GOALKEEPER TRAINING IN MINNESOTA
Andy Woodcock
Contact
Email
Phone
0845 094 1809
Venues
Minneapolis
St. Paul
Chaska
Bloomington
Andy is one of the most experienced Goalkeeper Coaches working in the USA.
Having worked for several professional clubs in England (including the former European Champions!) Andy is now coaching in Minnesota, hoping to bring his wealth of knowledge and experience to the goalkeepers of the Midwest.
Having begun managing youth teams at Semi Pro level in the UK aged just 19 years old, Andy then continued his coaching while travelling Australia.
After returning to the UK in 2002, Andy was given an opportunity to coach for the Championship team, Gillingham F.C. Here he worked his way up to managing the U16 Academy side and was their Centre of Excellence goalkeeper coach.
During 2006 Andy joined J4K. He established both North and South Kent regions and with over 16 different venues was responsible for the development of an average of 300 students every week and has helped six of his students actually play at professional clubs!
Andy left Gillingham F.C in 2010 to take up a new role as Goalkeeper Coach for the U18 Academy at Chelsea F.C. while continuing to grow and improve the availability of J4K throughout South East England.
Andy has completed his FA Level 1 & 2 Outfield and Goalkeeper badges, as well as the UEFA B Licence and is currently taking the top European coaching qualification the UEFA A Licence.
Andy's reputation in England as one of the top coaches in his area and the opportunity's that J4K provide for goalkeepers has meant that the overall standard of goalkeeping in Southern England has greatly improved over recent years.
The goalkeepers of Minnesota are in safe hands!
J4K Student Gets a Pro Contract at Southend
Josh Bexon has been signed on a 2 year contract by League 1 side Southend United.
The 17 year old has been a Just4keepers student since he was 9 years old and has already played for Southend's U21 side this season after impressing in U18 matches.
Local Coach Andy Woodcock said "During my 15 years of coaching locally we have worked with a huge amount of keepers now, but Josh stood out from the very start. We don't promise anything but the best coaching at J4k as I know just how hard it is to get the opportunities to make it in the pro game. Josh had played for several local sides all the way up until U16 and was never at a Centre of Excellence, but I knew out of all the keepers we coach every week, this lad had a great chance of going all the way."
He was only selected for a trial about 9 months ago and has now moved to Southend to start his full time training with his new team.
Here is Josh in action and also in the 1st team photo (4 places to the right of current 1st team manager Phil Brown)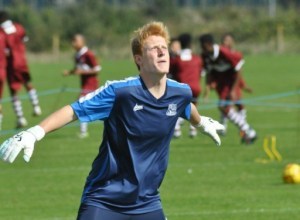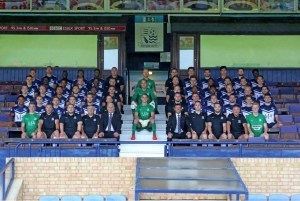 J4K Student signs for Gillingham F.C
J4K student Will Sykes has been signed for English League 1 side Gillingham F.C. Will has been attending Just4keepers since he was 9 years old, and his attitude to training and improving his game impressed all the coaches.
Head Coach Andy Woodcock used his contacts at his former club to arrange a trial and Will has recently signed for a further 2 years. All his hard work and commitment are starting to pay off.
Congratulations from all the J4K coaches.